Time stamps
The "Time Stamp" service is useful in situations when the date plays a significant role in the verification and authentication process of various documents, agreements or certificates. It is a kind of "label" attached to an electronic document or application, based on which it is easy to define theaccurate and credible date of its creation or execution.
The Time Stamp is applied especially in thecase of agreements and settlements with business partners, clients and public institutions. The time stamping of the document does not result from the system time (workstation or server), but comes from an independent source, i.e. a Trustworthy Third Party.
Documents with a Time Stamp (e.g. invoices or motions) are secured against forgery or backdating. Therefore, they are 100% credible for all companies, institutions, offices and private individuals.
CERTUM offers the following services to its clients:
Qualified Time Stamp
Non-qualified Time Stamp
| time stamp | non-qualified | qualified |
| --- | --- | --- |
| Reliable time stamping | | |
| Producing legal effects of a certain date | | |
| Dating of documents and electronic signatures (SHA1) | | |
| Price | Free for non-commercial services | Depending on the packet size |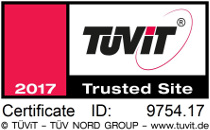 Qualified Electronic Time Stamp service is compiles with art. 42 on REGULATION (EU) No 910/2014 OF THE EUROPEAN PARLIAMENT AND OF THE COUNCIL (eIDAS).
The time of applying the signature is of great importance when entering into civil and law contracts, sending various motions, and signing valid documents. The Qualified Time Stamp service allows users to reliably time stamp a document and state that the document or signature existed at a given moment. Such time stamping produces legal effects of a "certain date" within the meaning of the Civil Code.
The service is intended for both business, public administration and individual clients. Compliance with the latest norms, and advanced cryptographic techniques fully guarantee thecorrectness and reliability of the service. When applying the Qualified Time Stamp we know exactly when the document was created and that its date has not been changed.
The most important benefits are the following:
of contracts sent in an electronic form to banks, insurance agencies and partner companies,
motions and applications sent in an electronic form to public administration offices,
electronic invoices sent to recipients in an electronic form.
The most important benefits are the following:
legal effects of a "certain date" within the meaning of the Civil Code,
certainty with respect to thecreation of documents at a given time,
provision of security of Internet trade,
protection of computer programs against forgery and viruses.
Validity period
Depending on the number of time stamps the packet is valid from 1 to 2 years, or until an established limit has been reached.
Technical requirements
In order to use the Time Stamp service you will need an application generating a SHA1 short-cut of the document to be time stamped. The application may be: proCertumSmartSign (made available along with a time stamp packet) or any other application able to generate short-cuts of documents to be time stamped.
Authorization verification
you are interested in the Qualified Time Stamp service, please download and fill out the order form send it to the e-mail address infolinia@certum.pl along with a copy of corporate documents.
Price:
| | | |
| --- | --- | --- |
| Pacet of 10 000 stamps | If you are interested in a different settlement model, please: contact us | |
| Pacet of 50 000 stamps | If you are interested in a different settlement model, please: contact us | |
| Pacet of up 100 000 stamps | If you are interested in a different settlement model, please: contact us | |