CERTUM Commercial SSL
Basic certificate securing data transmission
Its extended versions cover many domains and sub-domains at the same time.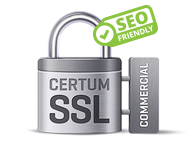 small on-line stores,
Internet portals,
Internet blogs and forums,
non-commercial websites,
web services of schools and universities,
mail servers, databases, SFTP,
communication:

Facebook Apps,
within intranet and extranet networks,
client-server applications,
30-day free replacement warranty for the new SSL certificate!
(reissue mechanism allows for re- issuance of a certificate with the date of the expiration of the certificate).
Prefix https:// before URL

CERTUM Commercial SSL?
CERTUM Commercial SSL is a DV (Domain Validation) certificate, which is a trustworthy certificate supported by all popular web browsers. The simplified issue procedure (as fast as 15 minutes) allows the installation of the certificate immediately upon payment and verification of the right to the domain. One of the fastest methods for securing data transmitted on the Internet. It ensures domain authentication and encryption of connections up to 256 bits. In order to confirm the aforesaid security measure you can download the prestigious CERTUM seal to add to your website. The seal proves that it is safe for users to register on the web service and use the e-services offered thereon. Certum SSL Certificates support hash algorithm SHA-2.
Two versions of the CERTUM Commercial SSL certificate
MultiDomain SSL

VS

Wildcard SSL

Allows protection by means of one certificate for

10 different domains.

Example:
1) your-domain.pl,
2) your-2-domain.pl,
3) your-3-domain.pl,
4) your-3-domain.pl, etc.

Allows protection of the main domain with the WWW prefix and without it, as well as any number of subdomains ascribed thereto.

Example:
1) mail.yourcompany.pl,
2) payment.yourcompany.pl,
3) store.yourcompany.pl
4) ftp.twojafirma.pl, etc.

Do you have more than one web service?
Secure up to 10 domains with 1 SSL certificate!

Do you provide many services through 1 domain?
Secure the main domain and all services with 1 certificate!

Purchase of CERTUM Commercial SSL

Upon purchase of this certificate thorough authentication of the purchaser is required. The above guarantees an increased level of security for web service users.


The benefits of CERTUM Commercial SSL

The CERTUM Commercial SSL certificate strengthens trust in web services run by financial institutions and government subdivisions. Your clients will feel secure that their data are fully protected and that connection to a website is 100% safe.