Card reader Omnikey 5321 USB RFID
The OMNIKEY® 5321 represents the ideal combination of contact and contactless technology in a single device. Featuring a dual-interface, PC-linked reader that reads / writes to both a 13.56 MHz contactless smart card and virtually any contact smart card, the OMNIKEY® 5321 economically supports end-user environments where both contact and contactless smart card technologies are used.
Utilizing contactless smart card technology for PC-linked applications, the OMNIKEY® 5321 device allows users to experience the convenience, speed and security of contactless technology for applications, including log-on to Windows®, networks, web sites and applications for the secure storage of user names, passwords and personal information.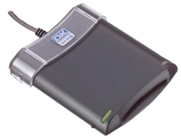 Buy now
Banking & Payment
e-Healthcare
Access Control
Public Key Infrastructure
e-Purse & Loyalty