Card reader ACS ACR38K USB
ACR38K Smart Keyboard combines the functionalities of a smart card reader and a PC keyboard into one, enabling easy implementation of smart card-based solutions in a PC environment. The ACS smart card readers utilize the latest microchip technology bringing you high security for your confidential files in a convenient and easy way.
Being PC/SC and CCID-compliant, ACR38K Smart Keyboard offers a plug-and-play solution that eliminates the need for driver installation and driver-system compatibility assessment. A powerful component for security, e-commerce and other smart card applications, it is perfect for implementing smart card-based systems in a PC environment.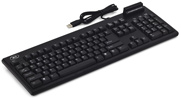 Buy now
Banking & Payment
e-Healthcare
Network Security
Access Control
Public Key Infrastructure
e-Purse & Loyalty
e-Government