2022-06-14
European Trust Service Providers promote consumer protection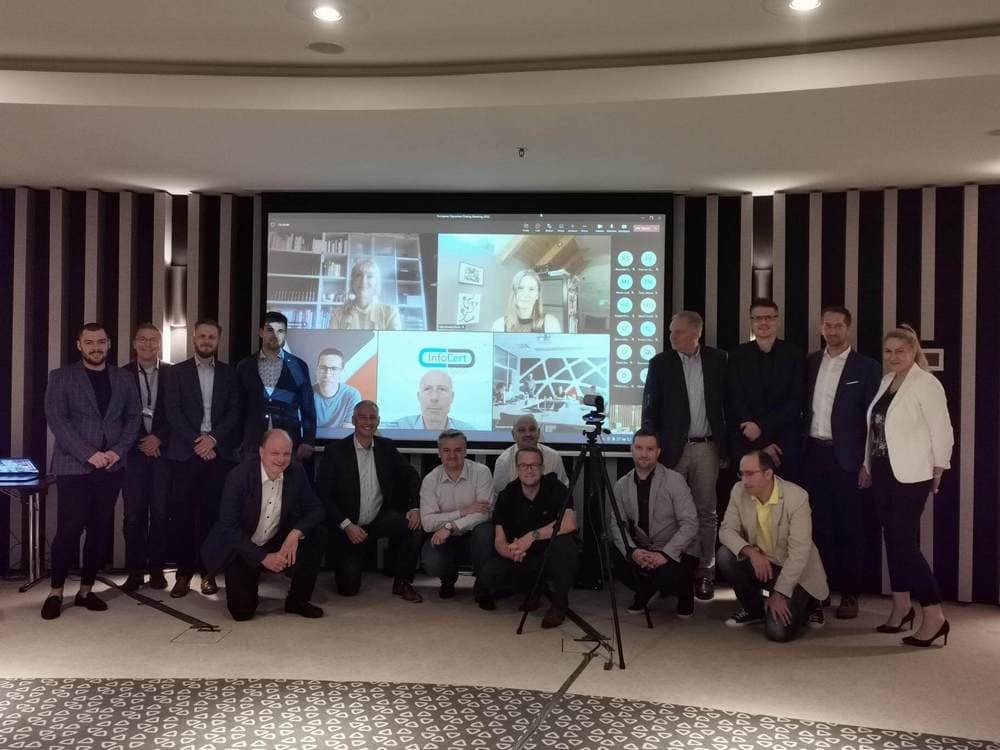 European Signature Dialog: The CEOs of the leading European Trust Service Providers held their 6th Flagship meeting during the 9th and 10th of June 2022 – a high-level exchange dedicated to empower European secure solutions. The meeting was organized by Asseco Data Systems.
Warsaw, 10 June 2022 – The European Signature Dialog (ESD) held its annual Flagship meeting in Warsaw in order to foster cross-border interconnection and consumer protection for a global digital population. ESD constitutes a steady think-tank of the leading European Trust Service Providers. The association aims to achieve harmonized policies for a common digital trust space, to make Europe a world player in e-authentication and enable the continent to set high standards on the world stage. Back in 2017, ESD was founded in the presence of EU Commissioner Andrus Ansip.
ESD: Success model for digital collaboration
"As a bridge between EU-institutions and industry we consult closely with the European Commission and the European Parliament", says Michael Butz, Chairman of the European Signature Dialog. ESD supports a seamless performance of digital interactions: "As we see, digital transactions and contactless collaboration are essential for the survival of all companies. Europe needs secure, sovereign and user-friendly digital infrastructures to create a well-functioning and sustainable digital society."
Tomasz Litarowicz, Trust Services Unit Director of the Polish Provider Asseco Data Systems and Host of this year´s ESD Flagship meeting underlines: "We are glad to be part of this visionary association of ESD. It is our common goal to foster trustworthy digital solutions in order to allow Europe to protect its tough data protection laws. Together we create frameworks that reinforce EU citizens' rights to trust and security when accessing online services. We want citizens and companies to have a real choice of entities that can access their data. Moreover, such solutions should operate on the basis of appropriate standards that will guarantee the necessary levels of security"
Future trends of the digital trust space
The ESD Flagship event covered future trends for the European eID market such as "Trusted Services business models & Electronic Identity Wallets in new eIDAS 2.0 environment" or "Post Quantum Cryptography ".
ESD is constantly growing. Today the association consists of the Top-15 leading European Trust Service Providers from Austria, Bulgaria, Czechia, Finland, France, Germany, Hungary, Italy, Luxembourg, Netherlands, Poland, Portugal, Romania, Spain and Switzerland.
About ESD:
ESD aims to connect major European Trust Service Providers to share best practices, develop a common industry viewpoint on regulatory issues and empower European solutions for guaranteed data-security. Together with their partners ESD enables large numbers of secure authentication as well as trusted digital identities across the entire continent on a daily basis – for people, for businesses, for public entities.
Closely interacting with EU authorities, ESD is building a an important bridge between eIDAS regulation and its harmonized implementation on national levels – thereby driving an efficient cross-European eIDAS implementation framework.
In the presence of EU Commissioner Andrus Ansip, the first European signature dialog took place in Vienna, June 2017.